Meet Elin Häger, Technical Project Manager
Elin's education: Master of Science in Engineering, Chemical Biology
What made you apply for a position at Sectra?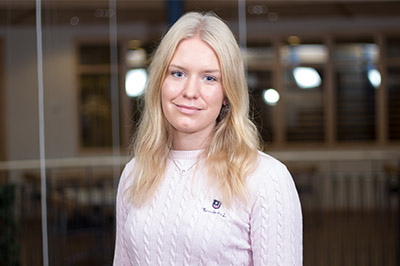 I first came across Sectra at a lunch lecture during my second year at Linköping University. I remember thinking that the products were cool, and I instantly liked the person presenting. They also served a free sandwich for lunch.
When the time came for me to look for a job at the end of my education, I still had Sectra in the back of my mind. I found a job advertisement for a role as System Engineer on Sectra's career site. I applied for the position and have been working at Sectra ever since.
How long have you been working at Sectra?
Since August 2015. I started at Sectra as a System Engineer – working with installations and integrations for our Swedish radiology customers. In 2019, I became a Project Manager. Since I know the details about the products we are installing, my technical background is a huge advantage for me in my new role.
I really like that my role at Sectra is combined leadership with in-depth technical knowledge of our products.
Elin Häger, Technical Project Manager
What do you do during a normal day at work?
I always work close to our customers with installation, upgrade, or integration projects. As a technical project manager, every day is different and I am involved from before the signing of the contract to the closure of the project. Some days I help sales with tenders and solution design of future projects and other days I am at the customer site on a Go-Live of a project we have been working on for months. But most days I am at the office coordinating with customers, their other vendors, and our Sectra project team.
What do you like most about your job?
I like that each day is different and that I am in charge of my own time. I also really like that my current position combines leadership with in-depth technical knowledge of our products.
What are you most passionate about?
I have a lot of passions in life and have the privilege of sharing some of them with my colleagues. For example, we have a Sectra band where I get to sing and perform now and then. I am also part of a group which is training together around the office at lunchtime. Apart from that, cooking and eating new and interesting food is also a passion of mine.
What has been the most exciting project you have worked on since you started with Sectra?
I have been working with a lot of great projects at Sectra, so it is impossible to pick just one.
But the one that I think has benefited our customers the most is a project in the Stockholm Region where we set up "BFT" (bild- och funktionstjänst), a new shared radiology image archive. Before BFT existed, all 14 radiology departments were only able to see their own radiology images and needed to call each other to find out if patients had been elsewhere. Now they have a shared radiology image archive, which means that all hospitals connected to BFT can access radiology images for all patients in Stockholm.
This was also my first project and I was given a good level of responsibility right from the start. This is also something that Sectra is really good at – giving new employees the opportunity to shine.