Sectra successfully develops and sells cutting-edge solutions within medical IT and secure communications.  We welcome driven and talented students with a passion for medtech and cybersecurity to our join our summer internship program. Our summer internship program is an important part of our goal of being at the forefront of technology. If you are interested in innovative and cutting-edge technology, we offer you the opportunity to use your ideas, energy, curiosity, and determination to contribute to our work. Our scope includes a wide range of interesting challenges, both within medical IT and secure communications.
I really enjoyed my time at Sectra and the technology spurred a great deal of interest for me. Also I got to work with "real" problems which gave me the feeling that Sectra's summer internship was very serious.
Vera Antonov, Summer intern
Sectra Medical IT
We help hospitals across the world to become more effective, and thus take care of more patients and save more lives. Cancer diseases, osteoarthritis and orthopaedic surgery represent some of the most costly and resource-intensive areas in the healthcare sector—areas where Sectra's software-solutions facilitates diagnosis, planning and patient monitoring. Sectra also helps to raise the quality of medical education by providing solutions for interacting with medical images and sharing educational materials.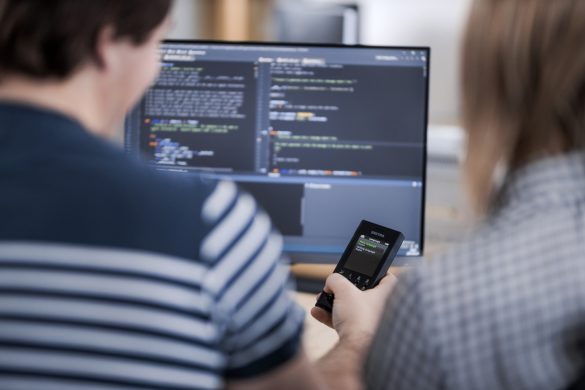 Sectra Communications
At Sectra Communications we are on a mission for a more stable and secure society. Our products and services increase cybersecurity by protecting some of society's most sensitive information and communications. Sectra helps critical social functions, government officials and diplomats to exchange information securely. We also help actors within energy and water distribution in attaining a balanced security over time, supporting them in the digital transformation. Sectra's secure communication solutions are deployed to the EU, NATO and more than half of the EU member states for sharing classified information on national and international levels.
Learn more
A summer internship with Sectra doesn't just mean creating value for society through innovative technology. It also means joining and become part of the Sectra family. For this you will:
Be assigned a mentor to support you when you first join us and throughout your project
Have the opportunity to create close and personal relationships with colleagues all over the world – we like to have fun together!
Get a unique inside perspective on our organization, our business and culture
Speaking of our culture. At Sectra we value humor and having fun together. What we do is serious business and we take that very seriously, but that also means we need to be able to laugh and let loose from time to time. Be prepared for social events on a regular basis, lots of fika and sports activities more or less on the daily if that's your thing.
We hope that this opportunity will act as a stepping-stone for your future with Sectra. Many of our summer interns stay with us in various roles and even move on to any of our international offices. That option is of course available for you as well once you graduate and are ready to take on the world.
Our summer interns work on real projects and many are related to development of our software solutions, but we also offer opportunities with a stronger market- and business development perspective. Expect to be challenged and really put your skills to the test. Again, our interns work on real projects. But don't worry, we will provide you with the support and information needed to succeed. We want this to a fun learning experience.
To give you an example, we offer projects focusing on:
Machine learning
Visualization
VPN-solutions
Web-applications
Technical writing
Market investigation and/or competitive analysis
Data analysis and development of data analytical framework
In your application, we recommend that you specify what you consider being your specialty and we will help you figure out what the right project is.
We hire for attitude and ability – train for skill. This means we will teach you what you need to know if we think you have the right mindset and personal traits. Our program is first and foremost designed for students with a passion and talent for technology so this is a must for any applicant. Our summer interns work to solve real challenges, often spurring innovations that change the way we do business. Therefore, we are looking for individuals with ambitions and curiosity and the motivation to be a part of the future of technology. We want pioneers and problem solvers, to help us create a healthier and safer society.
In addition to possessing the right attitude and ability, we think that you:
Are enrolled in an engineering program with a strong academic background. Preferably within IT, software development, system development, applied physics, industrial engineering or similar
Have an interest in medical IT and or secure communication
Can communicate without problem in Swedish and English
Are a Swedish citizen (required for our roles at Sectra Communications)
The application for 2022 is unfortunately closed. We hope to see you again in 2023.