Joining the Sectra Medical IT Trainee Program means investing in yourself and taking a step towards designing your future. With more than 30 years of experience within medical imaging IT and the highest customer satisfaction for nine consecutive years our knowledge and passion is clear. Our vision of using technology to create a patient-centered care is what drives us every day. Now we want to share that knowledge and passion with you.
If you are interested in being part of the future of healthcare we offer you the opportunity to use your ideas, energy, curiosity and determination to create a better patient experience. Take part in our unique 12 months traineeship and learn everything you need to know to accelerate your future at Sectra. Through our three different tracks (Technical, Commercial and Clinical) we offer you a path completely in line with your interests and passions.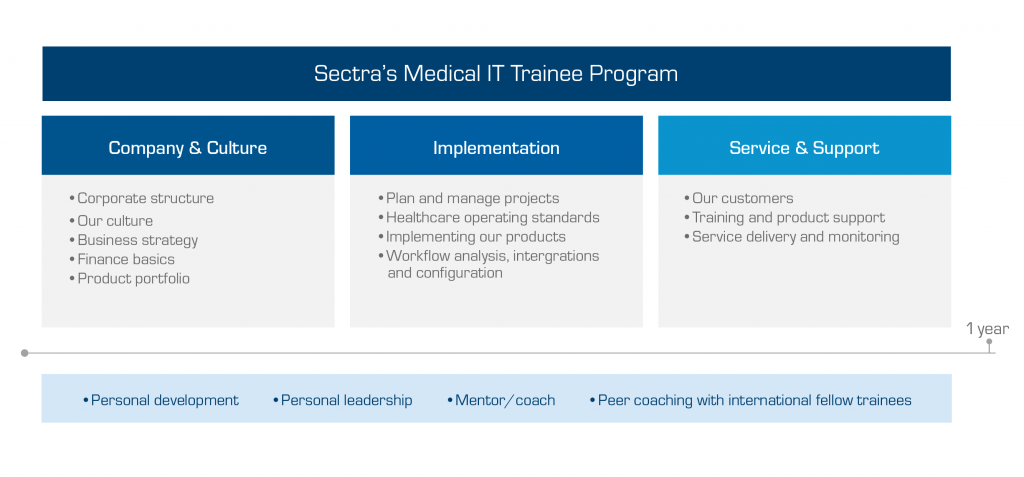 About the program
During these 12 months you will take part in a series of training-modules to develop you skills in several different areas. Our mission is for you to excel within all areas of the program:
Personal development
Technical skills
Essential skills
Business understanding
The program is designed through a unique combination of on-the-job-training, coaching and mentorship, learning-courses and live projects to really make sure that you make the most out of this experience.
Our Trainee Program is currently available for spots in UK and Ireland, the Netherlands, Belgium, Germany and France. In the future, if you are interested, you of course have the option of continuing your journey with Sectra at any of our offices around the world.
Career paths you could expect to take within Sectra upon completion of the Medical IT Trainee Program:
Technical Track
You could work in depth with our product portfolio and our solutions, its architecture and infrastructure. Potential roles you could undertake would be:
Project Engineer (Technical Consultant, Integration, Migration)
Project manager
Service / Support Engineer
Solution Architect
Commercial Track
You would work in close collaboration with our sales team in order to fully assess customer needs and requirements to suggest ways in which our products and solutions can solve their problems and improve patient care. Potential roles could be:
Front Line Sales
Account Manager
Customer Success Manager
Bid Manager
Clinical Track
Be at the heart of our customer workflow analysis and configuration, offering support, guidance, and training to our end users whilst also working with our sales team to offer world class demonstrations.
Applications Specialist (Trainer / Workflow specialist)
We hire for attitude and ability – train for skill. For that reason this program is designed for recent engineering graduates with passion and talent for technology and the medical IT industry. Across (international) teams, our medical IT program participants work to solve real-world challenges, often spurring innovations that change the way we do business.
Therefore, we are looking for individuals with ambitions and curiosity and the motivation to be a part of the future of healthcare. We want pioneers, problem solvers, and leaders to help us create a healthier society.
If you have the ability to learn and learn fast we can promise you the opportunity to grow both personally and professionally.
If you think this is the right step for your future we urge you to apply.
Our application process goes as follows:
Upon receiving your application we will review it carefully. The applicants who's profile and personal statement best match with this program will be invited for a personal interview and skills test. From there it's a matter of understanding who you are and giving you the entire picture of what we are offering. If at the end both parties think that this is a match you will be offered a spot in the program and your journey at Sectra begins!
Timetable for September 2022 program start
Applications Close – End June
Information Session – End June
Aptitude Testing – Early July
First Interviews – End July
Final Interviews – Mid August
Program Start – Mid September
Our traineeship is set to start in September 2022. During the following 12 months our mission will be to prepare you in the best possible way for your future at Sectra.
As participant in the program you will receive:
A monthly salary
A trip to our headquarters in Linköping, Sweden for our 3 day rookie introduction course
Personal coaching as part of your own Personal Development track
A broad introduction in all roles of your organization
Not to mention that fact that being part of Sectra, regardless of your role, always means:
Hundreds of colleagues that make going to work fun
Lots of activities and social events on a regular basis
The opportunity to create close and personal relationships with our customers through different events and visits