Meet Frida Börnfors, Software Engineer
Frida's education: Master of Science in Biomedical Engineering
What made you apply for a position at Sectra?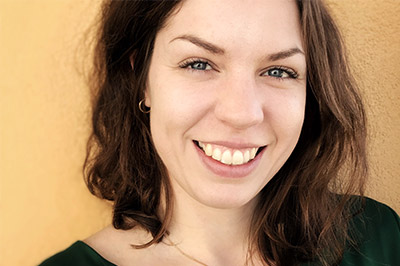 I first encountered Sectra at a career fair held at the university where I studied, and I received a very positive first impression. I was impressed by the kindness and commitment the people I met there showed. I was also very interested in Sectra's products because a lot of the work I had done during my final years as a student and for my master's thesis was related to image analysis, and in particular, medical image analysis. Additionally, Sectra felt like a very good workplace for me as someone who had just graduated, and that it would provide me with the opportunity to learn from experienced colleagues and grow in my role as a developer.
How long have you been working at Sectra?
I have been working at Sectra since August 2019. I did not have a lot of experience of software development, but the Sectra mindset "Hire for attitude and ability – train for skill" spoke to me. I have been given a lot of freedom in terms of developing the skills that are required of me, both with regard to identifying areas to develop within, but also how I want to develop. Additionally, my team has been great at getting me up to speed by introducing me to different parts of the products, concepts, tools, etc.
My first interaction with Sectra was at a career fair at my university. I was very impressed by the kindness and commitment the representatives had. I felt like Sectra would provide me the opportunity to learn from experienced colleagues, improve my skills as a developer and be a great place to begin my career.
Frida Börnfors, Software Engineer
What do you do at Sectra?
I am a software engineer in one of our development teams. I am part of a development team that works with Sectra PACS specializing in visualization and clinical applications. My team consists of four developers and one tester and we work closely together to improve existing functionalities as well as to develop new ones.
What do you like most about your job?
I really enjoy working with such passionate, helpful, and intelligent colleagues. I learn a lot from them every day, and being surrounded by these people motivates me to continuously improve.
How would you describe Sectra as a workplace?
There is a high level of dedication among the employees at Sectra – everyone takes pride in what they do and they work hard to deliver customer value. I also feel that Sectra is very good at taking care of its employees and recognizes that our wellbeing is part of the company's success.
Why would you recommend applying for a job at Sectra?
Sectra is a great workplace for many reasons, some of which I have already mentioned. If you want a meaningful job at a company with an outstanding company culture – look no further than Sectra!