Meet Jill Reed-Ybarra, Clinical Application Specialist
Jill's education: Master of Arts in Organizational Leadership
What made you apply for a position at Sectra?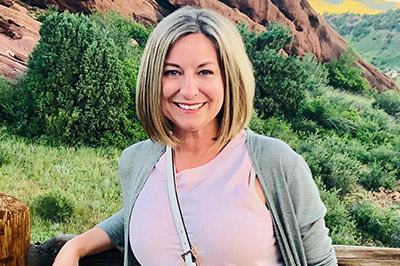 The Best in KLAS designation caught my eye. I've always wanted to work in healthcare and contribute to quality patient care.  Sectra is known for not only having a strong and competitive product, but also for its great treatment of its employees.
How long have you been working at Sectra?
Since August 2019.
My advice is to not settle for "good enough". You spend the majority of your life working, so you should work with what you are passionate about.
Jill Reed-Ybarra, Clinical Application Specialist
What do you do in a typical day at work?
I love my role because it allows me to maximize my efficiency by working from home. Sectra provides me with flexibility and I am entrusted to use my time wisely in order to complete tasks. I am afforded the experience of working with different healthcare customer teams throughout a multitude of locations in the United States, which provides me with a new perspective regarding efficient and quality processes and allows me to build on what works best.
What are you most passionate about?
I am passionate about working alongside healthcare teams to provide quality patient care. Our work is having a direct impact on the treatment that patients receive, and that is very exciting.
How would you describe the Sectra workplace?
I love the culture at Sectra. Everyone is working toward the same goal. Sharing knowledge is a key aspect and allows everyone to grow within their role. There is a trust and encouragement that runs from the top of the organization down. You feel secure in sharing your ideas and asking for help. The confidence that Sectra has in its employees drives a constant desire to improve the product even more in an ever-evolving industry.
Why would you recommend applying for a job at Sectra?
The company has a first-rate and competitive product. The culture provides a healthy environment for personal and professional growth and employees are valued.
What do you like most about your job?
I have a lot of flexibility in my job. I believe there is a misconception that people who work from home are distracted. I know what is expected of me, and I have the trust from the company to work remotely to complete my tasks. In addition, I am fortunate to have the opportunity to travel and explore the country and the world at the same time as I am collaborating with many respected healthcare customers and teams.
What values are you driven by?
Compassion. Trust. Knowledge-sharing. Competitiveness. Contributing positively to society.
What has been the most exciting project you have worked on since you started with Sectra?
I have thoroughly enjoyed working with the Vanderbilt team. Vanderbilt is a well-known and respected healthcare organization in which we have been given the opportunity to implement our enterprise imaging solution. I have been able to contribute to the cardiology side of things by analyzing current workflows and presenting/recommending new ones. In doing so, I have formed valuable relationships with this customer. I look forward to working alongside the rest of the Sectra team in the deployment of successful solutions for the Vanderbilt later this year.